BRS Recognized in Legal Industry's Top Directories
---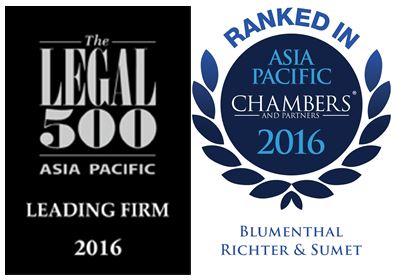 Despite the ongoing turbulence in regional and global financial markets, Blumenthal Richter & Sumet has continued to enjoy strong growth. After another successful year, the firm has again been recognized as a 'Leading Firm' by the legal industry's leading independent directories.
Individual departments have been singled out for praise in the latest editions of both The Legal 500 and Chambers & Partners for successfully representing their client's interests and for the ongoing quality of their expertise in the Asia-Pacific region.
In the 2016 Asia-Pacific edition of The Legal 500, the firm now has three Band 2-ranked departments in Real Estate & Construction, Tax, and Technology, Media & Telecommunications (TMT). Our Dispute Resolution and Corporate and M&A (incl. Capital Markets) departments are ranked in Bands 4 and 5, respectively.
In the 2016 Asia-Pacific edition of Chambers & Partners, our Corporate/M&A, Real Estate, and TMT departments are recognized in Bands 4, 3, and 2, respectively. For the fourth consecutive year, our John P. Formichella, head of the firm's TMT department, has been ranked as a Band 1 'Leading Lawyer'.
Market feedback for the firm includes:
"Blumenthal Richter & Sumet Ltd. provides an 'excellent service'. It is experienced in IT-related transactions, where it also handles IT management and security, software development projects, licensing, and network and cloud services. The practice recently provided regulatory advice pertaining to the entry of a large US telecoms operator into the Thai market. John Formichella 'instills confidence in clients'."
"Blumenthal Richter & Sumet Ltd.'s team, led by Robert Schuler, advises clients on all aspects of property development, from land acquisition to construction, operations and environmental regulations. The group has seen considerable activity on inbound investment in resort developments and advised Castlewood Group on a joint venture, acquisition and expansion of a hotel. The team is experienced in eco-friendly resort projects and advises clients throughout the ASEAN region."
"Sumet Mingmongkolmitr at Blumenthal Richter & Sumet Ltd. has a varied tax practice, advising domestic, international and multinational clients on corporate tax, joint venture taxation, VAT matters and international tax treaties. Mr. Mingmongkolmitr also has expertise in offshore structures for outbound transactions for corporations and high net-worth individuals."
"Blumenthal Richter & Sumet Ltd.'s recent caseload includes employment disputes and several claims against hotel resort developers. The team, led by Suchart Meesomboonpoonsuk, also handles commercial arbitrations."
"Blumenthal Richter & Sumet Ltd. has several German-based clients … Andreas Richter led advice to a European car manufacturer on corporate structuring and market entry strategies."
---
[End]