Donation of I.T. Hardware to Rural Schools in Thailand
---
Blumenthal Richter & Sumet is supporting the "Giving Back to the Community" project of the High School Tech Club of the International School of Bangkok (ISB) by donating 17 early-retired desktop computers, plus additional monitors, keyboards, printers and accessories. The equipment will be given to 3 rural schools in Kanchanaburi Province who have expressed an urgent need for the technology. ISB's Tech Club will assess the equipment, conduct repairs where necessary, and professionally remove any and all data to ensure no confidential information is shared.
On 11 November 2014, Partner Andreas Richter and the firm's IT coordinator Ms. Rujirek Cheawchanprisri handed over the equipment to Mr. Christopher Bell, Club Advisor, and to Mr. Siri Asdathorn, President & Founder of the Tech Club, who commented: "Hopefully, we will be able to help these underprivileged students gain access to technology and consequently improve the tech skills that will be highly useful in improving their future lives and enlarging their career possibilities."
Blumenthal Richter & Sumet is encouraging its clients and business partners to support this good cause and donate its IT equipment to the ISB Tech Club. Please visit their website at https://isbhstech.com/community or contact Mr. Christopher Bell directly via email at: christob@isb.ac.th.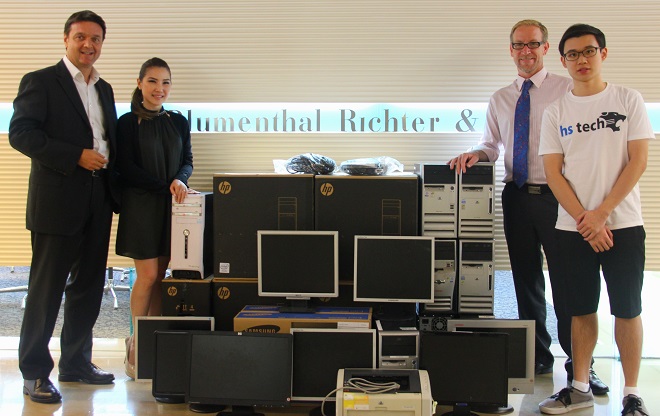 ---
[End]