Staedtler, global stationery supplier, expands operations in Thailand
---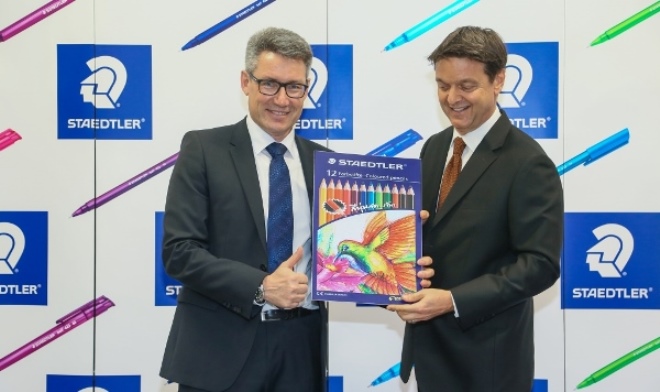 Senior Partner Andreas C. Richter (right), pictured here with Dr. Konstantin Czeschka, CTO of Staedtler Noris GmbH, attended the opening ceremony of the factory expansion of Staedtler Group Thailand on 24 February 2017.
The ceremony was to mark Staedtler's THB 80 Million renovation and expansion of its two manufacturing sites in Bangkok: (i) Staedtler Manufacturing (Thailand) Ltd. (established in 1989 and located in Lad Krabang district), which manufactures ball-point pens, erasers and rulers; and (ii) Siam Pencil Co., Ltd. (established in 2001 and located in Nong Chok district), which manufactures graphite and coloured pencils.
Staedtler, a long-term client of BRS, has been operating for over 180 years and is one of the world's leading stationery suppliers. It is recognized globally for its high production standards and exports to over 150 countries, with pencils, erasers and fineliners being its top three best-selling products in Thailand. Total sales reached THB 830 Million in 2016, representing year-on-year growth of 5% on 2015.
With its recent expansion, Staedtler aims to boost sales in Thailand and extend its reach in the Asia Pacific region and beyond.
---
For more information, contact Mr. Andreas C. Richter at: richter@brslawyers.com.
---
[End]