Interlaw's 2015 Asia-Pacific Meeting on ASEAN Economic Integration
---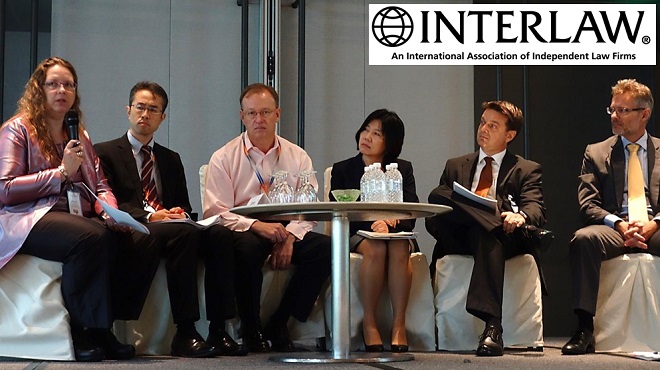 Andreas C. Richter (second right) joining a panel discussion and providing the Thai perspective on the topic of 'ASEAN Economic Integration' at Interlaw's 2015 Asia-Pacific Meeting in Singapore.
The discussion was chaired by Ms. Deborah Kay Elms, Executive Director of the Asian Trade Center. The panelists were Mr. Eitaro Kojima (JETRO), Mr. Oliver Tonby (McKinsey & Company), Mr. Anthony Egerton (Partner, Huntington Partners LLP), and Ms. Ooi Bee Hong (Partner, Lee Hishammuddin Allen & Gledhill).
Interlaw has earned the highest professional ranking as an 'Elite Global Law Firm Network' and counts as its members top-tier independent law firms in 130 cities worldwide.
Blumenthal Richter & Sumet is the exclusive Interlaw member firm of Thailand. Mr. Richter represented the Asia-Pacific region as Vice-Chair on Interlaw's international Board of Directors for six (6) years.
---
 [End]