Law Firm Networks: Why Who You Know Matters
---
As clients become increasingly international so must their lawyers, but this does not have to mean using big international firms. Vern Pitt and Rose Walker assess the opportunities for legal networks.
---
It's not what you know but who you know as the saying goes, and that is certainly the case when dealing with cross border referrals.
As clients have increasingly extended their business beyond their own borders, lawyers need to have access to counterparts around the globe in order to win work and fully service them. For large law firms this has meant a period of rapid international expansion. Many independent firms, meanwhile, have signed up to one of the many legal referral networks in a bid to compete for cross border mandates.
But with a spate of office closures by international firms and several retrenching in areas like the Middle East, is there a window of opportunity for independent firms? And how important are networks when it comes to competing with the big players?
The most obvious argument in favour of the networks is the access to referrals and contacts in other countries, without the costs related to setting up an office there. Even with many independent firms managing their own referral relationships, network membership gives access to firms in a volume of countries that would simply be unmanageable to maintain in many cases.
Lex Mundi boasts that it makes its members "world ready" to operate as a firm with "global reach". While Michael Siebold, chair of the Interlaw network, says: "Even in markets which suffer from instability, such as Venezuela or Russia, we have people we can turn to and be in capable hands."
Siebold, who is also a partner at German independent firm Arnecke Sibeth, adds that many of his firm's German clients would probably have left to go to an international firm if it wasn't for the firm's membership of Interlaw and a handful of other networks. He says: "Going global is a necessity to so many clients that I think the plusses lie in networks having firms in more remote jurisdictions or less developed markets. Only the elite legal networks offer services throughout the world."
With several international law firms withdrawing from non-profitable jurisdictions (examples of international firms downsizing include White & Case withdrawing from Budapest in April this year when its whole office departed for Dentons; Olswang pulling out of Berlin; Fried Frank Shriver & Jacobson closing its Hong Kong and Shanghai offices earlier this year; and Latham & Watkins and Baker Botts closing offices in the Middle East) and others certainly more considered and cautious about where they do expand there is mileage to be had for some independent firms in taking the chance to foster links with bigger players who have downsized rather than just networks.
Jose Eduardo Carneiro Queiroz, managing partner of Mattos Filho, one of Brazil's biggest law firms, which prefers to focus on ties with international firms. The firm is not a member of any network. He says: "I really don't see firms in networks getting more work than us or getting more exposure than us. It's quite typical that the networks will take only one firm from a given country. If you are a small firm it might make sense but when you are big you are always going to lose."
Instead he says his firm has organically built up good relationships with top tier US and UK firms such as Cleary Gottlieb Steen & Hamilton, Linklaters, Slaughter and May and Cravath Swaine & Moore.
CONSISTENCY IS KEY
A major advantage firms with a large international footprint argue they have over their more locally-based rivals is the consistency they are able to offer on international deals, particularly with regards to quality and common documentation.
In response, Interlaw's Siebold says the network has recently started to encourage member firms to pitch within their own domestic markets as Interlaw rather than using their individual brands. The member firms are also involved in joint pitches as Interlaw for both panel work and individual mandates. As part of this they have introduced a single engagement letter.
The network is moving to a system of monitoring member firms' performance through an annual appraisal of client satisfaction and the amount of work they are referring to other members of the network. He argues: "The quality and depth of network firms in their jurisdictions is generally better than what are often smaller and less established outposts of international law firms. In fact, one could argue that international firms are nothing more than a network of firms in a brand wrapper.
"International firms are often much less integrated and there is less collaboration than you find in elite law firm network firms. They offer a brand name but the reality is that this does not guarantee a client consistency of quality across the globe. Moreover, international firms tend to attempt to standardize fee rates and also carry much higher cost overheads, which are in turn passed on to the clients who are increasingly sophisticated and understand this."
Andrew Gillen, corporate partner and co-chair of the international board of Travers Smith, which is not a member of a formal network, agrees network membership can give independent firms an advantage when pitching to clients for cross border work. "One challenge we face is that somehow they see they will get a more streamlined service if they deal with one firm on cross border deals," he says. "That's one thing the networks are good for because they may be able to point to common working practices across the network. It's something that we have worked very hard on with our partner firms."
---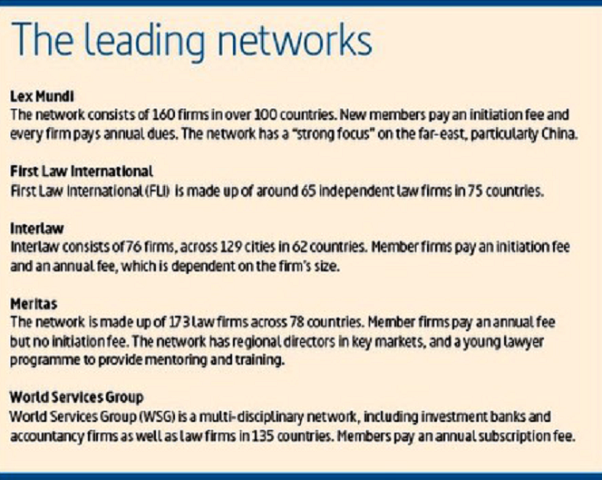 ---
REFERRAL LINKS
It is inbound referrals that are arguably the mark of a network's success. Gary Assim, partner at Shoosmiths and chair of the World Services Group (WSG), certainly feels the firm gets its money's worth: "Shoosmiths wins work weekly through the WSG. I must get an email almost every day about both inbound and outbound opportunities."
Thomas Heymann, managing partner of independent German firm Heymann & Partners, which is not a member of any network, sees a similar benefit. "When setting up the firm in 2005 we would have loved a network, in part, to enhance our credibility towards our clients and also in hope of inbound referrals," he says.
Sebastian Iribarne, partner and executive board member at Lex Mundi Argentina member Marval O'Farrell & Mairal, says referrals were his firm's main impetus for joining when Lex Mundi was set up in 1989 and he is upbeat about the results: "It has proven to be a very good decision because basically it has given us more business than the cost of being a member," he says.
Siebold argues the picture of referrals varies depending on which country you are looking at. "It's extremely different from jurisdiction to jurisdiction. The UK both sends and receives work from a lot of former commonwealth countries such as India and Pakistan. It's similar in the US and Canada and to some extent Germany. Typical receiving countries are Eastern European and African." He adds that networks have been most beneficial to firms in Latin America and the Middle East.
Volume of work is only half the story, however, just as important is the quality of that work and the quality of other lawyers that you are passing your hard won clients over to. Many firms outside the networks take a sceptical view of the quality of the lawyers within them.
Dirk Bliesener, co-managing partner of German independent Hengeler Mueller, says: "Big formalized networks don't necessarily assemble the best lawyers." He reels off a list of the firms that Hengeler works with, including Cravath and Slaughters as a point of comparison. He adds: "These are all regarded as the prime firms in their jurisdictions. It is not a formalized network and we can act on opposite sides, but we have created intensive work relationships."
However, Lex Mundi's Iribarne, defends the networks quality checking processes at law firm networks, saying that, while you still have to do your own research to fully trust and understand a firm or lawyer when referring work, the network's own checks provide a robust backstop where that's not possible. "Every six years each firm gets audited and if they don't meet the standards they are out," he says. "It's not a formality, I have seen it happen many times where people do get asked to leave and they find another firm in that country."
Bliesener goes a step further and says that even international firms struggle to control quality to the same degree as firms that simply refer work themselves. "If you talk to the managing partners [of international firms] it is quite a headache to set up an office. The partners might be not the best but you need to sell them," he says.
One of the other pervasive concerns over network membership is that it ties firms' hands when referring clients. Some networks, including Lex Mundi and Interlaw, allow firms to refer work to non-member firms, provided sufficient volume is still referred within the networks. For those firms working in smaller legal markets the problem is often self-limiting however due to a lack of other suitable referral candidates.
It seems that the usefulness of network membership to independent firms is dependent on the type of work a firm does and its position in the market. For the elite independent firms such as Slaughters and Hengeler there are no shortage of firms willing to work with them. For these firms, building their own best friends network of referral partners in key jurisdictions from the ground up is easier to achieve than for the raft of mid-tier firms who face greater competition.
These less internationally well-known firms have, however, much to gain from the opportunities formal networks bring. But whether within a formal referral group, a free-standing independent firm or a large international firm, there is no getting away from the need to build a good working relationship with a network of partners across the globe to win the best clients.
---
[End]